11th Newsletter – May 2023: Remote driving cars and intelligent trains crossing the Spanish-French border
admin
SUBSCRIBE TO THE 5GMED NEWSLETTER HERE!
Yes, you are not wrong to read the headline. The 5GMED Project is working to demonstrate advanced Cooperative Connected, and Automated Mobility (CCAM) and Future Railway Mobile Communications System services (FRMCS) along the Mediterranean Corridor between Spain and France. The objective is to design a common roads/railways 5G infrastructure architecture, through four use cases: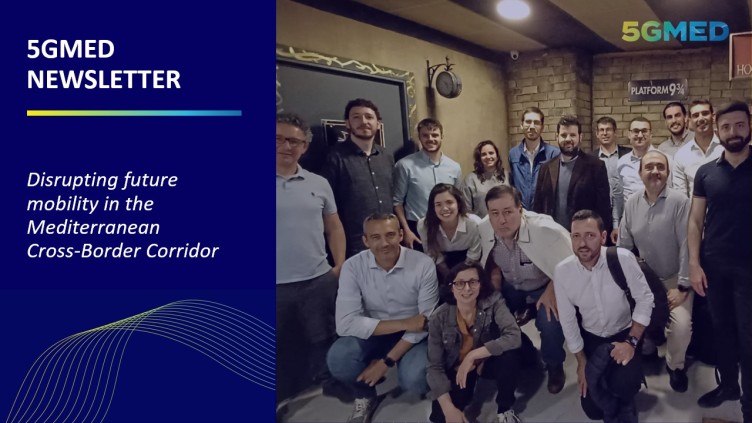 In October 2023, automated cars will cross that border, as well as intelligent trains. The 5GMED consortium is working on the Large-Scale Trials that will happen on 25-26 October 2023, and that is why they met at Hispasat facilities at the beginning of the month. These trials will be conducted to evaluate the capabilities of 5G to meet the requirements of the use cases in the cross-border mobility scenario.  

5GMED Partners at Hispasat facilities in Madrid
After two days of intense discussions, team-building activities and workshops with new objectives and challenges, the 5GMED partners could come back to their usual offices ready to start working on future actions to keep disrupting mobility in the Mediterranean Cross-Border Corridor.
But some of them also met at the 15th ITS European Congress in Lisbon, in which Francisco Vázquez Gallego, from i2CAT Foundation, presented 5GMED in a workshop as part of the Technical Programme 'Automated, Cooperative and Connected Mobility'.  
At the 3-day event in the Portuguese capital, 5GMED shared a booth with the ICT-53 5G-PPP projects 5G-Blueprint, 5GRAIL and 5G-ROUTES.
And speaking of events, our next date is on 6-9 June 2023 at the EuCNC & 6G Summit in Gothenburg. Will we see you there? Do not hesitate to contact us if you are around!
SUBSCRIBE TO THE 5GMED NEWSLETTER HERE!
This newsletter was originally published on LinkedIn.