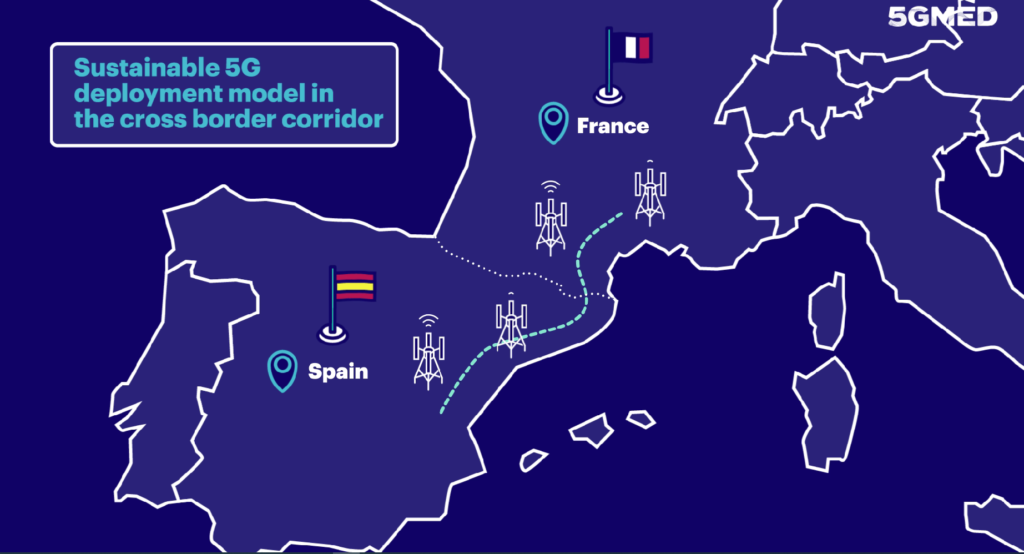 The area of interest is located around La Jonquera on the border between Spain and France. Of particular interest is the fact that the E15 highway and the high-speed rail track run very close to each other, which will allow us to deploy a single multi-stakeholder 5GMed infrastructure to validate both CCAM and FRMCS services. Note that converging the infrastructure required to support automotive and railways services is key to the value proposition put forward by 5GMED.
5GMED features three small-scale testing facilities that will be a key asset in performing an initial integration and validation of the use cases before going for the final validation in the cross-border corridor.
Circuit ParcMotor in Castellolí (Catalunya, Spain),
Paris Circuit: Satory and the UTAC/CERAM (Paris, France),
CMS's site (Madrid, Spain),
LFP's maintenance site (Spain)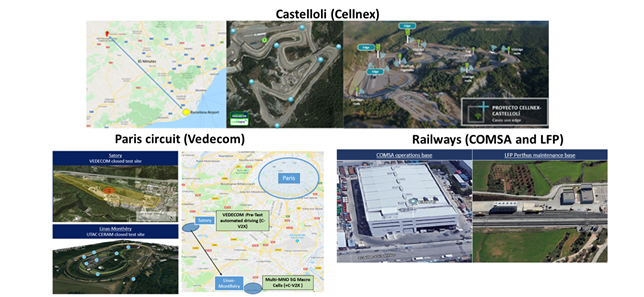 Circuit ParcMotor in Castellolí (Catalunya, Spain)
RETEVISION is going to use the Circuit ParcMotor located in Castellolí (35 minutes from the Barcelona Airport). The Circuit ParcMotor covers an area of 100 hectares offering top-class facilities for every discipline and level of motorsport (see Figure 1-14). More specifically, Circuit ParcMotor includes:
A technical racetrack consists of a 4.146 km long circuit featuring marked elevation changes and two crossovers, giving it a unique character.
An MX/4×4/SUV track that is 1.600 Km long and a 10m wide off-road track for testing MX/4×4/SUV in real conditions.
This circuit has been equipped with C-V2X, 5G and edge computing technologies.
The testbed capabilities are the followed:
Road infrastructure: 24 HD cameras, ITS-G5 and c-V2x RSU (8), 2 weather stations, road sensors (temperature, parking, speed), 5 edge nodes with video analytics and machine learning capabilities. Orchestration backend. Mini-data centre. Control room
5G network: Mini base stations over 2.6 GHz. 3.5 GHz (Band 42) with 4 small cells. 1 MANET SDR Network. 5G network 1H2020. mmWave (26 GHz)
Road: 4,2 km closed road with (Up to 300km/h): 7 right turns, 4 left turns, 9% max. upward gradient, 8% max. downward gradient, 100 max. corner radius at apex, 30 min. corner radius at apex. 1.6 km Off-Road:10 m track width, 12 jumps, 8 right turns, 11 left turns. 14 boxes. 3 paddock areas 14000 m2 (2 areas) near the closed road + 4000 m2 close to Off-Road.
Paris Circuit
VEDECOM provides two trial sites located in Paris region: Satory and the UTAC/CERAM (see Figure 1-14). These are closed test sites composed of more than 12 Km of different types of roads (highway, urban, rural, parking and braking circuits) and associated facilities. The UTAC/CERAM site is equipped with 5G network infrastructure provided by both Orange and Bouygues Telecom operators which are used in other projects such as 5G-MOBIX and 5G-CroCro. The closed site of Satory is composed of closed roads (private test tracks), 4G private network is available and 5G network should be installed in 2020
UTAC/CERAM capabilities
Road infrastructure: LIDARS, RSU (PC5), C-V2X RSUs each 200 m
5G network: 2 PLMN (Orange & Bouygues), MEC.
Road: 2.2 Km of Highways (2 lanes per direction). 12 Km of urban roads, parking zone, tolling gates, tunnels, roundabout, Controllable traffic lights
Satory capabilities
Road infrastructure: LIDAR's, RSU, Cameras
5G network: Available second half 2020
Road: Speedway, normal road
Railway testbed
Two testbeds in Spain will support small scales validation of UC3. CMS's site for telecommunications equipment integration in Madrid and LFP's maintenance site which, due to its proximity to the installation, could also be used for final testing.
Madrid Getafe capabilities:
Technical testbed building: Environment and personnel for integration and testing of ICT components. Previous testing example: 5G Picture project testbed setup.
Maintenance Base LFP Perthus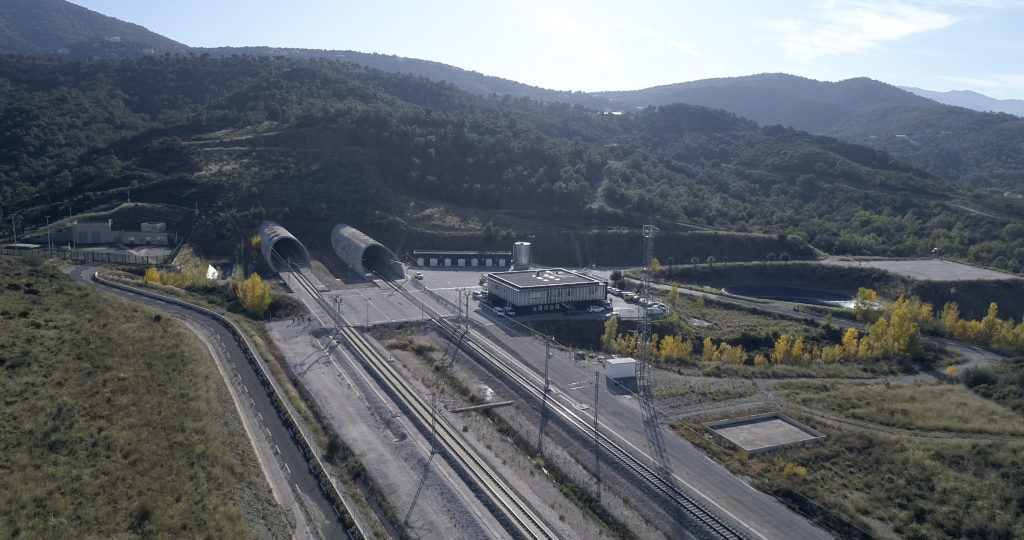 Dressing and drivers: Vehicles and personnel required for installation of equipment along the track and tunnel
Base garage building: Can host a train test vehicle with the required ICT components
Maintenance tools, workshop pit, stairs in garage: It allows installation works on the test vehicle
Station (at the right of the garage): It allows the transport via truck of the testbed built in the ICT integration lab and the load of the testbed into the train test vehicle.
Vodafone coverageIt allows testing 5G connectivity to the testbed vehicle
Rail track connectivity: It allows to hitch the train test vehicle to a train power head for test runs along the corridor prior to testing on commercial train.
Train power head and drivers: It allows more flexibility and lower costs for the test runs.