12th Newsletter – June 2023: Seamless connectivity and uninterrupted mobility along the Mediterranean Cross-Border Corridor
admin
SUBSCRIBE TO THE 5GMED NEWSLETTER HERE!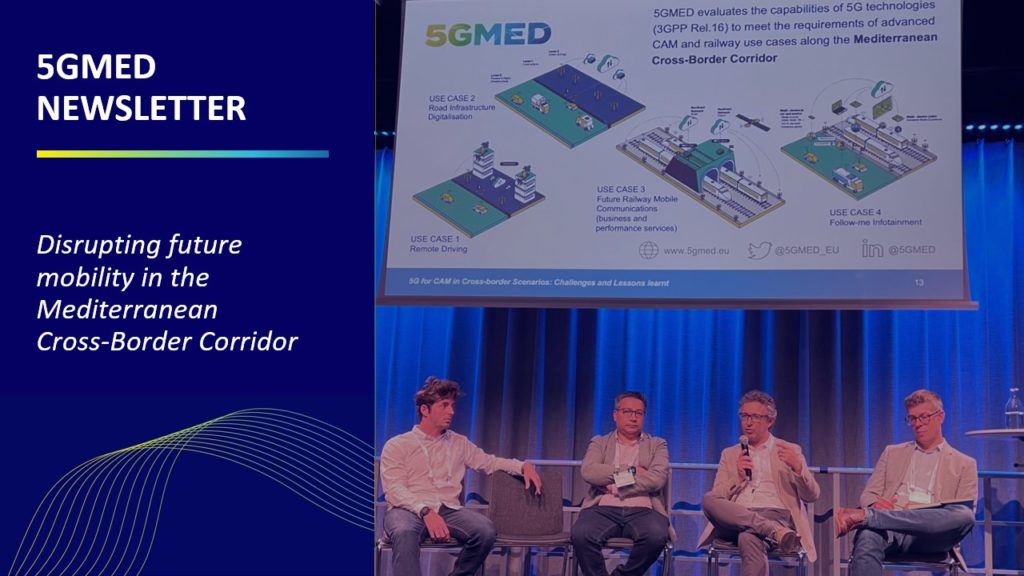 That is exactly what the 5GMED Project is working on: developing connectivity and uninterrupted mobility along the Mediterranean Cross-Border Corridor.
Francisco Vázquez-Gallego, 5GMED Technical Manager and V2X Researcher Line Manager at i2CAT Foundation, shared invaluable experiences and outlined the solutions that are being developed at the workshop+ titled "5G for CAM in cross-border scenarios: challenges and lessons learnt".
This session, a collaborative effort among 5GMED, 5G-Blueprint, 5G-ROUTES, and 5GRAIL, took place on 7 June, 2023, in the context of the EuCNC & 6G Summit celebrated in Gothenburg (Sweden) on 6-9 June, 2023.
The fellow ICT53 5GPPP projects explored the need for seamless 5G continuity to ensure the success of CAM services, particularly across borders. Executed under the Horizon 2020 program framework, all of them tackle common challenges that hinder the smooth provision of CAM services in cross-border scenarios.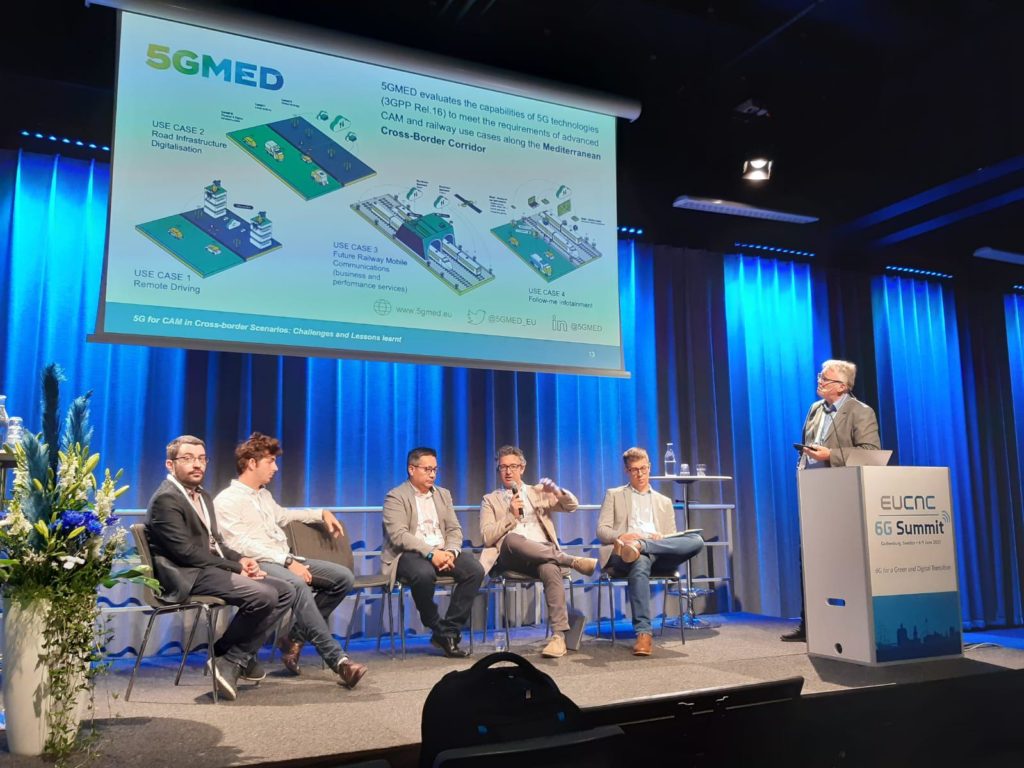 Francisco Vazquez Gallego (i2CAT) presenting the 5GMED workshop+ at EuCNC & 6G Summit 2023
While 5GMED partner i2CAT was in Gothenburg, COMSA Corporation was in Barcelona (Spain) showcasing innovative solutions at UITP Global Public Transport Summit from 4 to 7 June, 2023. This event brought together industry leaders, policymakers, and experts from around the world to discuss the future of public transportation.
COMSA Corporation booth disseminating 5GMED at the UITP Global Public Transport Summit 2023
Besides being presented at events, 5GMED has also been featured in The European 5G Annual Journal 2023 as a part of the 5G PPP ICT-53-2020 call: 5G PPP 5G for Connected and Automated Mobility (CAM).
Speaking of CAM, a very common initial used in the 5GMED Project, it has a variant: CCAM, standing for Cooperative, Connected and Automated Mobility, term included in the 5GMED Lexicon.
This is what we have been up to at 5GMED so far, but today we have a date at the "5G for Railways – Challenges and Opportunities for Operational and Passenger Connectivity" workshop three at the IEEE Vehicular Technology Conference (VTC-Spring 2023) in Florence (Italy), where Juan Agustí from COMSA Corporation presents the scientific paper 5GMED Seamless Connectivity for Digital Trains.
The Mediterranean waves of the Spanish-French cross-border corridor keep sounding, as 5GMED keeps sharing their news with you in this monthly newsletter, to which we invite you to subscribe now!
Check out our privacy policy here.
SUBSCRIBE TO THE 5GMED NEWSLETTER HERE!
This newsletter was originally published on LinkedIn.