5GMED Project's Participation at EuCNC & 6G Summit 2023 in Gothenburg
Mobile World Capital Barcelona
The 5GMED team, alongside the fellow ICT53 5GPPP projects 5G-Blueprint, 5GRAIL and 5G-ROUTES participated in the 2023 Joint EuCNC & 6G Summit held in Gothenburg, Sweden, from June 6th to June 9th.
Workshop+ "5G for CAM in cross-border scenarios: challenges and lessons learnt" 
An anticipated workshop+ titled "5G for CAM in cross-border scenarios: challenges and lessons learnt" took place on June 7th from 11:00 to 12:30 in Room G3. This workshop, a collaborative effort among the 5GMED, 5G-Blueprint, 5G-Routes, and 5GRAIL projects, explored the need for seamless 5G continuity to ensure the success of CAM services, particularly across borders. These projects, executed under the Horizon 2020 program framework, tackle common challenges that hinder the smooth provision of CAM services in cross-border scenarios.
Francisco Vázquez-Gallego, 5GMED technical manager, shared invaluable experiences and outlined the solutions developed by the project to ensure seamless connectivity and uninterrupted mobility along the Mediterranean Cross-Border Corridor.
The workshop addressed technical aspects, including network coverage and performance validation, as well as business and governance perspectives such as harmonizing frameworks for seamless roaming. Leveraging the results of the ICT-18 Automotive Projects, such as 5G-Mobix, 5GCroCo, and 5GCARMEN, the ongoing activities in ICT-53 projects showcased refined 5G solutions for CAM. The session facilitated open discussions, allowing participants to contribute their insights, address unresolved issues, and identify challenges for future research tasks.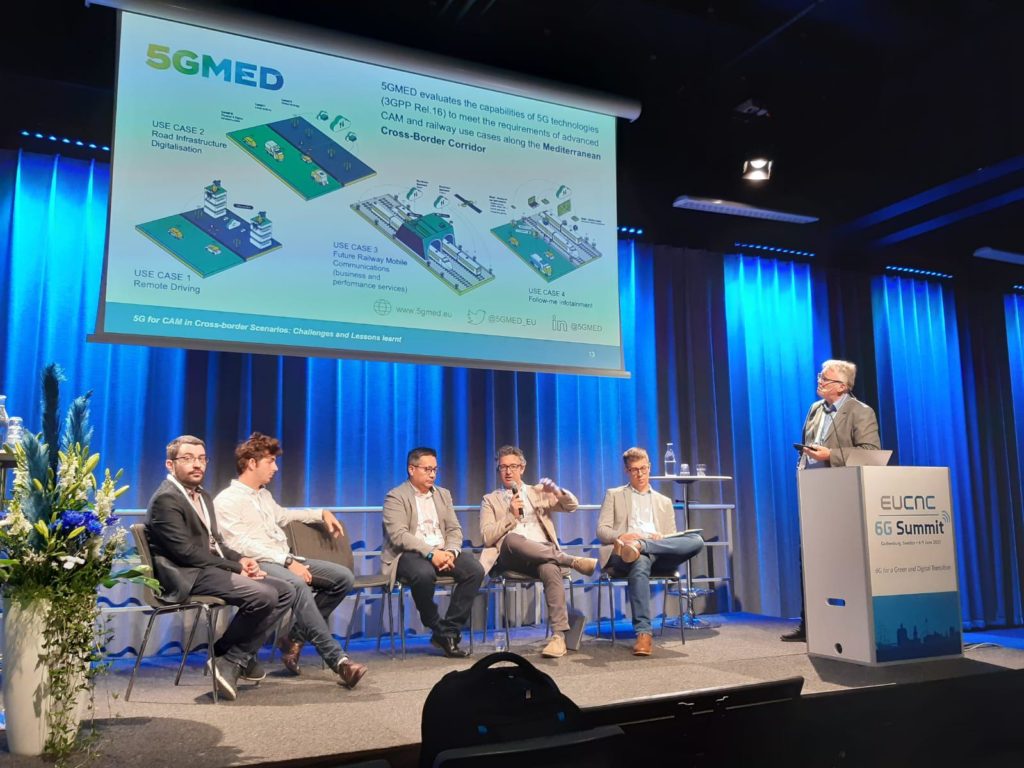 About the Event
The 2023 Joint EuCNC & 6G Summit marked the convergence of two highly influential conferences in the telecommunications field: EuCNC and the 6G Summit. EuCNC, now in its 32nd edition, is supported by the European Commission, while the 6G Summit, in its 5th edition, originated from the 6G Flagship program in Finland. The conference, sponsored by the IEEE Communications Society (ComSoc) and the European Association for Signal Processing (EURASIP), provided a platform for experts to discuss various aspects of Beyond 5G/6G communications systems and networks.
 Antwerp, Belgium, will be hosting the next year's edition of the event from June 3rd to June 6th.