14th Newsletter – August 2023: Beyond Faster Downloads: The Transformative Power of 5G in Transportation
admin
SUBSCRIBE TO THE 5GMED NEWSLETTER HERE!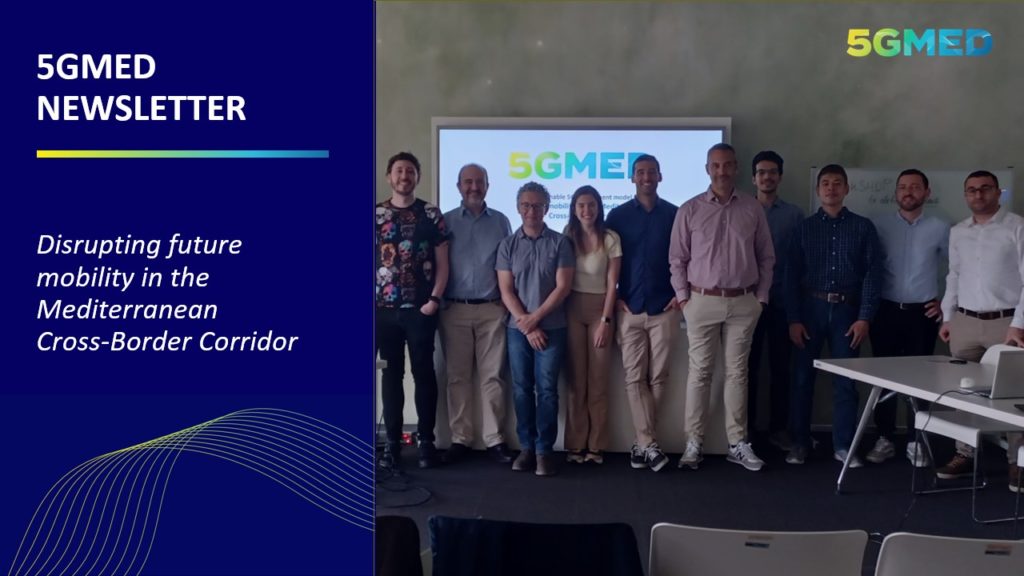 In an era of constant technological advancement, the world of transportation is on the cusp of transformation. The convergence of communication technology and transportation systems has opened the door to unprecedented possibilities, and at the heart of this revolution lies the fifth generation of wireless technology – 5G. While initially celebrated for its promise of faster downloads and seamless streaming, 5G's true potential extends far beyond enhancing our entertainment experiences. It has the power to reshape the way we move, navigate, and manage transportation on a global scale: from self-driving cars that communicate instantaneously with one another to intelligent traffic management systems that react to real-time data, the impact of 5G on transportation is profound and multifaceted.
Amidst the backdrop of ceaseless technological advancement, the intersection of cross-border transportation presents a unique challenge due to varying infrastructures, different networks, and regulations across different nations. This intricate blend of complexities has given rise to an innovative project known as 5GMED. This initiative seeks to harness the potential of 5G technology to bridge the connectivity gap within the Mediterranean cross-border corridor that links Spain and France, a vital conduit responsible for a significant percentage of road and rail transportation – 55% of road traffic and 65% of rail traffic – between these two countries. 
"One of the technological challenges is precisely located in the border stretch. Specifically, the major challenge lies in reducing service interruption times when crossing the border, which can be decisive for both connected and autonomous vehicles as well as for the railway".

Technical Director of 5GMED, Francisco Vazquez Gallego
At the core of the 5GMED project lies a consortium of 21 partners from seven countries, representing telecommunications, transport, technology, research, and consulting sectors. Orchestrated by Cellnex Telecom, the consortium includes prominent entities like Vodafone, Hispasat, Autopistas, an Abertis company, Groupe SNCF, Mobile World Capital Barcelona and other solution providers. With an overall investment of 16 million euros, of which 75% is funded by the European Commission's Horizon 2020 Program, the project is set to conclude in August 2024.
5GMED aims to establish a 5G infrastructure that can be used to support advanced connectivity services along the transport routes. It encompasses a range of innovative technologies, including onboard sensors, 5G networks, and artificial intelligence.
From remote driving to passenger infotainment
Four different use cases of 5G technology spotlight the potential impact of the project:
Seamless connectivity and uninterrupted mobility in the cross-border
In February 2023 the project conducted small-scale pilot demonstrations at the Circuit of Castellolí in Spain and LINEA FIGUERAS PERPIGNAN S.A. facilities in Spain-France to test the feasibility of its technology. These pilots demonstrated the project's progress to the European Commission delegation. In these simulations, 5G Standalone networks were deployed to test cross-border conditions and the performance of different use cases. 
To further emphasize its impact, the 5GMED project is set to hold demo days in October 2023 along the cross-border section between Figueres (Spain) and Perpignan (France), which is a critical part of the Trans-European Transport Network. The demo days will focus on demonstrating the seamless provision of services across borders, and network-specific experiments will evaluate the effects of roaming on network performance.
As the project progresses towards its conclusion next year, its success in deploying a robust and adaptable 5G infrastructure along the cross-border between Spain and France holds the potential to serve as a blueprint for similar initiatives in other regions and countries. The challenges and solutions tackled by the project, from reducing service interruption times for connected and autonomous vehicles to enhancing railway communications, have implications beyond the Mediterranean corridor. This not only paves the way for smoother and safer movement of people and goods but also sets the stage for more sustainable and interconnected transportation systems worldwide, thereby fostering economic growth, reducing environmental impact, and enriching the quality of life for countless individuals.
The Mediterranean waves of the Spanish-French cross-border corridor keep sounding, as 5GMED keeps sharing their news with you in this monthly newsletter, to which we invite you to subscribe now!
Check out our privacy policy here.
This newsletter was originally published on LinkedIn.