5GMED at the IEEE 5G Summit
Mobile World Capital Barcelona
During the IEEE 5G summit which took place from the 11th to the 12th of May 2021, Raul Gonzalez Prats, project manager of 5GMED had the opportunity to introduce the project at a glance. The event gathered most of the Horizon 2020 projects focused on CCAM and FRMCs funded under ICT-18 and ICT53.
Since 2016, European Commission (EC) has been deploying its 5G Action Plan to respond to the need of implementing the strategic technology that represents 5G. The objective, according to the EC is to provide 5G services in all Member States by the end of 2020 as well as ensure uninterrupted 5G coverage in urban areas and along main transport paths by 2025. The 5G Action Plan is a necessity to make possible the implementation of 5G infrastructures.
Nevertheless, for 5G to be an asset for Europe, 5G-PPP was born in 2013.The EU Public-Private Partnership is taking care of all the European 5G activities. The objective of the program is to deliver solutions, architectures, technologies, and standards for the ubiquitous next-generation communication infrastructures of the coming decade.
IEEE 5G summit, a key event for the European 5G Action Plan
The IEEE 5G gathers every year the complete European CCAM ecosystem. This first edition brought together a variety of EU-funded projects to share their experiences and present results with a view towards deployment. Connected and Automated Mobility as a central topic was complemented with other topics of interest, subjects like security, standardisation, legal challenges, deployment issues or financing issues, etc were discussed.
"The main societal objectives of Connected and Automated Mobility (CAM) are Safer Rides (enhanced road safety), More Efficient Rides (lower emissions and reduced congestion) and Connected Rides (infotainment). But the impact of CCAM on jobs and growth, as well as on global competitiveness, will be paramount." (IEEE 5G summit)
5GMED, the future of mobility in progress
Raul Gonzalez Prats from Cellnex, introduced 5GMED project during a session moderated by Jorge Pereira, Summit General Co-Chair (Principal Officer, European Commission). Many challenges will have to be faced by the project to bring a sustainable 5G deployment model for future mobility in the Mediterranean Cross-Border Corridor, especially to ensure service continuity in different use case scenarios which will also involve the use of a combination of different technologies.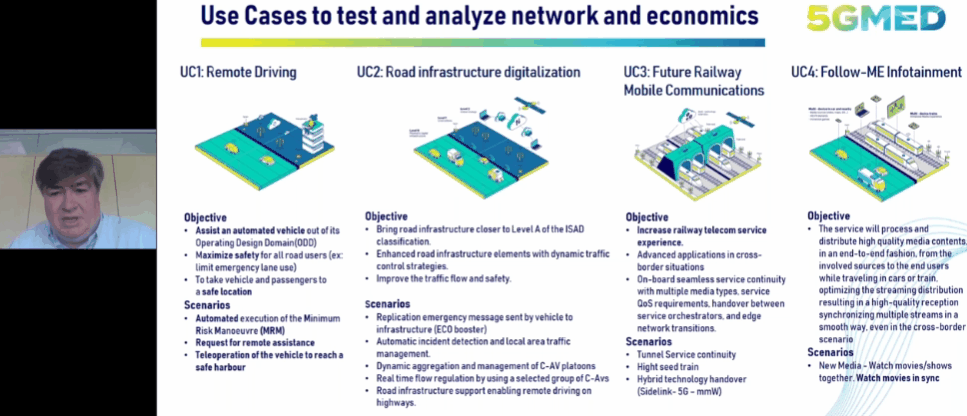 Get more information about 5GMED project on our website and follow our social media: Twitter and LinkedIn. If you want to get the lastest news about 5G ecosystem and 5GMED, subscribe to the newsletter here.