Linea Figueras Perpignan: an infrastructure at the service of the 5GMED project
Mobile World Capital Barcelona
Linea Figueras Perpignan S.A. or "LFP" is the Infrastructure Manager "IM" as defined by the European Directive 2001/14/EC, of the Perpignan-Figueras High-Speed Line, also known as "International Section". It is a binational ad-hoc Company whose shareholders are the national French and Spanish infrastructure managers: SNCF Réseau and ADIF. Its object is the operation and maintenance of the line.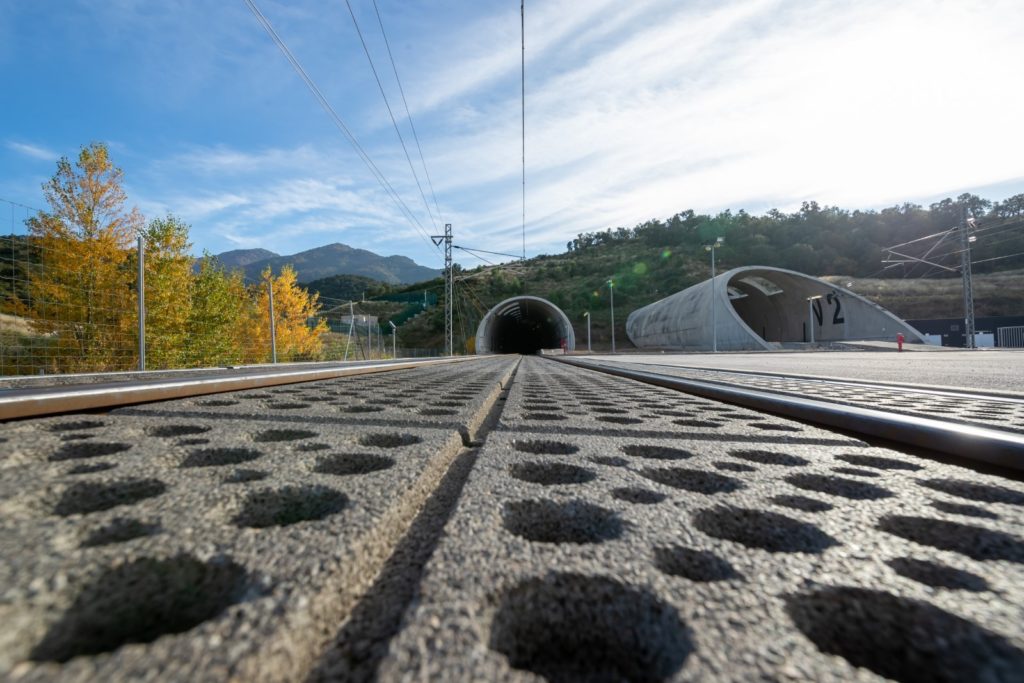 Mouth North Tunnel LFP
What does Infrastructure Manager mean?
In its quality of "IM", it exercises and has all necessary rights and powers, among others:
infrastructure management: traffic management, power management, maintenance, safety, security
definition of traffic rules, maintenance and safety management
definition of the conditions of admission of the rolling stock
capacity assignment
development and publication of technical documents
provision of additional services
collection of tolls
setting up agreements with Railway Companies
maintenance and renewals scheduling
cooperation with neighbouring IMs, ADIF and SNCF Réseau
cooperation with European IM and in particular with IM of Corridor 6
What is the purpose of LFP?
The high-speed line includes an 8,3-km cross-border tunnel below the Pyrenean chain from Perpignan (France) to Figueras (Spain). It is double-track, interoperable and compliant to the TSI and is fully designed for mixed traffic (passengers and freight). It offers significant travel times reductions between Spain and France, while offering a permanent solution to previous travel disruptions on the existing conventional railway networks of the two countries. Having a capacity of more than 100 trains per day, the line is 100% mixed: it allows simultaneous traffic and crossing of high-speed trains travelling at 300 km/h, regional trains travelling between 160 and 250 km/h and freight trains travelling at 100 or 120 km/h with no restrictions. Freight trains up to 750 m are authorized, and even up to 850 m if requested.
LFP has two Safety Authorisations granted by the National Safety Authorities, AESF in Spain and EPSF in France.
How will the line be used in the 5Gmed project?
The line will be used to validate the latest version of 5G technologies and architectures in different cross-border scenarios. Concrete key performance indicators (KPIs) will be defined to validate the trials in all aspects:
technology performance (both quantitative and qualitative)
business
In addition to making the infrastructure available for testing and validation, LFP will provide support during testing and will collaborate in the integration of the various technologies. LFP staff can provide support in a large variety of project tasks in the areas of communications, telecommunications, signalling, power, GSM technology…
Facilities, equipment's and staff to enable the realization of the project
Use of rail and facilities
Railway manoeuvres (shunting movements)
LFP staff (pilot, driver, shunting movement responsible, security)
General monitoring, project management
Special Service circulation Requests
Parking of vehicles
How do you define the importance of 5G technologies?
As a global benefit, with peak data speeds, ultra-low latency, more reliability, massive network capacity and increased availability 5G technologies will either introduce new services to consumers and business, or dramatically improve current service.
They represent the most important vector of innovation and economic growth over the next decades, generating high added-value jobs. Applications can be of different types and nature:
Home applications
Education
Medical
Transportation
Communications
Military
… and much more!
What will be the impact of the project in short term and long term?
The project will improve the connectivity along the lined, used by the high-speed trains between Spain and France.
LPF will become an early adopter of 5G technologies in the infrastructure digitalisation and explore the connected mobility market, identifying concrete opportunities for railway infrastructure digitalisation in tunnels.
How does this project contribute to cross-border collaboration between countries and institutions?
Similarly, to other previous communication projects, the transition between networks in a cross-border context always requires a great amount of fine-tuning, optimal service continuity and interaction between 5G infrastructures from one side of the border to another.
The main idea is to anticipate any potential issues and move from testing to real-life final picture.
The performance will be validated with the transition of a commercial SNCF train between ADIF in Spain and SNCF in France, across the line running at 300 km/h. This transition will be carried out without stopping the trains.
Tests will demonstrate the switch between 4G and 5G networks in each Country, as well as the switch between the 5G networks of both Countries.