9th Newsletter – March 2023: Safe, efficient, digital, connected and sustainable: that's the future of mobility
Mobile World Capital Barcelona
SUBSCRIBE TO THE 5GMED NEWSLETTER HERE!
5GMED was on stage last month at the Mobile World Congress 2023 among mobility experts in a panel discussion on "Europe and Spain facing the challenge of connected mobility". We know the event was hectic and busy, and you already forgot about it, so we delivered a recap article with a streaming video you can read and rewatch.
What are the concepts of the future of mobility?, Who are the game changers?, What is needed to achieve the future of mobility?
These questions were answered by the panellists José López Luque, 5GMED Coordinator from Cellnex Telecom; Laura Sanz Díaz, CCAM Strategy Lead at i2CAT Foundation; and María Paula Caycedo, Head of Innovation Hub South at EIT Urban Mobility. Marjorie Grassler, European Projects Communication Executive at Mobile World Capital Barcelona, moderated the round table, introduced with a keynote by Lluís Sergi Sarri i Camargo, Head of Digital Connectivity at the same Foundation. Here are some of their answers!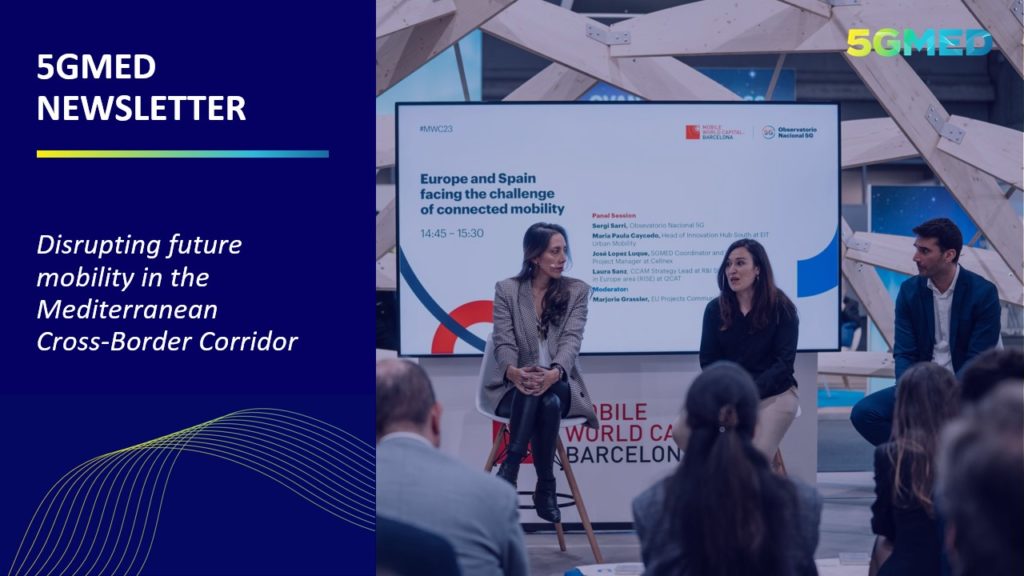 5GMED is at the forefront of shaping the future of mobility
"5GMED is using 5G to provide seamless services between different countries in the cross-border for several services, such as remote driving or connectivity in trains", highlighted José López Luque.
Laura Sanz enhanced that "5GMED is an example of connectivity with 5G in real projects".
And María Paula Caycedo explained why at EIT Urban Mobility they "accelerate mobility startups with programs like 5G Turbo to change mobility as we have it today".
Undoubtedly, safety, efficiency, digitalisation, connectivity and sustainability define the mobility of the future, and 5GMED project takes part in it.
What do you think: would you add any other term to the list?
Last but not least, the project will be at the ITS World Congress in Lisbon together with the ICT-53 projects: 5G-Blueprint Project, 5G-ROUTES Project, and 5GRAIL. Join us! We will be happy to talk with you!!
SUBSCRIBE TO THE 5GMED NEWSLETTER HERE!
This newsletter was originally published on LinkedIn.